We begin May, the month of Mary, already experiencing an overflow of graces and good news to share. We applaud Pope Francis' pivotal decision to expand participation in the Vatican's upcoming Synod of Bishops to include lay women and men. We could hardly contain our excitement!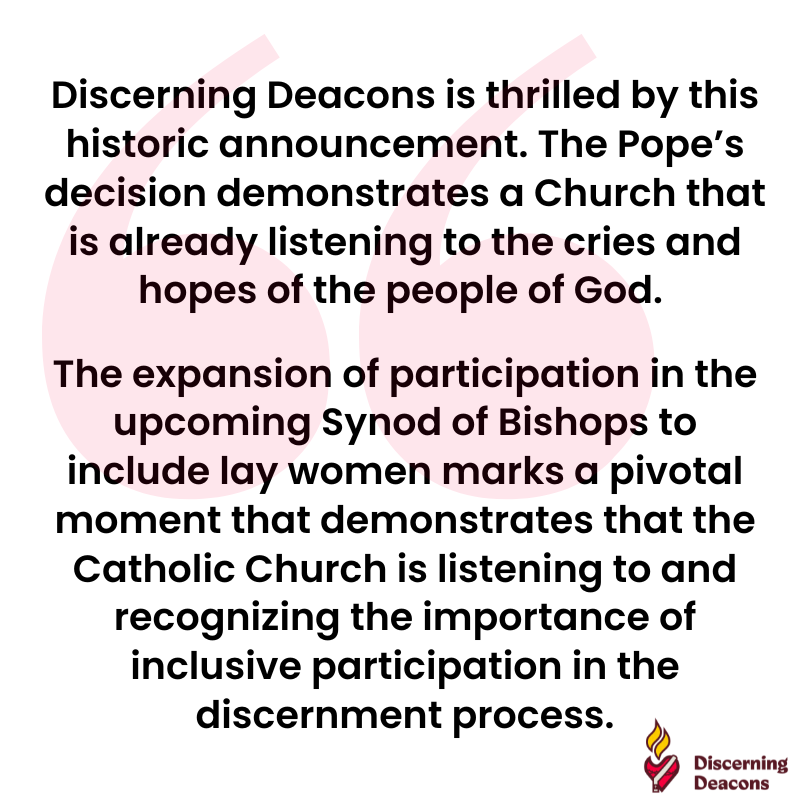 This global Synod on Communion, Participation, and Mission launches the Universal phase of the synodal process which will take place in Rome from October 4-29, 2023, and is expected to address church governance and a few topics in the Church, including the role of women in Church leadership. We trust that women present can be part of the critical yeast, helping the whole of our Church to rise, renewed.
In our local Catholic faith communities, conversations and discernment about restoring women to the permanent diaconate continue to grow. We recommend Katie Mulcahy's compelling essay in America, "My daughters have hard questions about the church. Are women deacons the answer?" From her own experience as a Mom raising daughters in Chicago, Katie also shares her questions:
Reflecting back on my own times of grief—miscarriage, a cancer diagnosis, loss of a parent—I can't help but wonder what it would have felt like to be ministered to by an ordained deacon who has experienced the joys and sorrows of being a woman, a daughter and a mother. I think about my Gen Z daughters and wonder if they would be more engaged participants in liturgy and sacraments if they could see their life experiences reflected in the preaching of the Gospel and in the leadership of the church.
Inspired by the testimonies of women dedicated to ministry and taking the initiative to learn more about the history of Catholic women deacons in early Christianity, Katie has sought to engage in the discernment through the synod process:
I have also learned that the act of talking about restoring women to the diaconate need not be controversial—there is no need to whisper or look over our shoulders when we mention it. Pope Francis and the U.S. bishops have asked us to participate in a synod where the theme of women's leadership and ministry has emerged as a key issue around the world. Engaging in these conversations is exactly what we are being called to do. We are called to pray, listen and discern what the Holy Spirit is telling us.
Prayer is central to our Discerning Deacons ministry, and later today, May 3, we invite you to join us for our St. Phoebe Prayer for a Synodal Church led by our continental discerning deacons circle. During the service, the team will reveal a beautiful new image of St. Phoebe by renowned artist Brother Mickey McGrath. Join us at 7 pm ET, 6 pm CT and 4 pm PT by registering here.
This month we offer several opportunities to join a Discerning Deacons call to continue building participation and plans for your parish's September celebration of St. Phoebe. Attendees will be the first to receive our St. Phoebe Day Liturgy Guide. Register for a call on May 9th or May 25th or in Spanish on June 1.
This May the Vatican Office of the Synod is encouraging all the faithful to entrust the global Synod to Mary by praying together across our faith communities on May 31.
United in prayer for Holy Mary's intercession for the work of the Synod,
Our Lady of Confidence, pray for us