This Advent season, as we prepare our hearts and minds for unexpected grace – God's presence breaking into our lives in a new way — we're delighted to offer several opportunities to engage in prayer, learning, and spiritual conversations as the People of God move into the continental stage of the global synod. We also invite you to consider making a financial gift to support the work of Discerning Deacons. 
Join us in praying with the women who lead the core group on Women and Ministry in the Ecclesial Conference of the Amazon Region (CEAMA). They will preside this month's St. Phoebe Prayer for a Synodal Church on Saturday, Dec. 3 at 7 pm ET, and their liturgy will enculturate the spirit of the Amazon and the light of faith which women bring to many difficulties so as to illuminate the camino —the path forward. Interpretation into English will be provided.
The document for the continental stage of the global synod has been released. What happens next and how can people of faith contribute to this stage? Boston College School of Theology and Ministry and Discerning Deacons have teamed up to offer a one-hour webinar, The Global Synod: What Happens Next?
Join us on Wednesday, December 7, at 7 pm ET for a virtual discussion on the continental phase. Hear from
Presenters: Rafael Luciani, associate professor of the practice, professor extraordinarius, Boston College School of Theology and Ministry & expert on the Synod Theological Commission and of the Latin American Council of Bishops; Richard Coll, US Synod Coordinating Team & executive director, USCCB Department of Justice, Peace and Human Development; and Maureen O'Connell, Director of Synod and Higher Education Engagement with Discerning Deacons & Professor of Christian Ethics at La Salle University in Philadelphia, PA.
We're hosting two spiritual conversation sessions —open to all— to come together and reflect on "Enlarge the Space in Your Tent," the document for the continental stage. We want to intentionally pause, pray with scripture, read aloud the sections titled "Rethinking Women's Participation" (paragraphs 60-65) — and let it sink in: the discernment about women's roles, including the diaconate, is now being brought to the global Church.
We're also preparing an offering for the continental phase: a synthesis from DD's September Pilgrimage to the Basilica of Our Lady of Guadalupe in Mexico City with the delegation from CEAMA. We hope this synthesis can bear witness to what was a profound intercontinental encounter, and serve as a point of light in the ongoing discernment about what's being revealed by the Holy Spirit, from the peripheries, for a synodal Church. The release date planned for this synthesis is December 12th, the Feast of Our Lady of Guadalupe!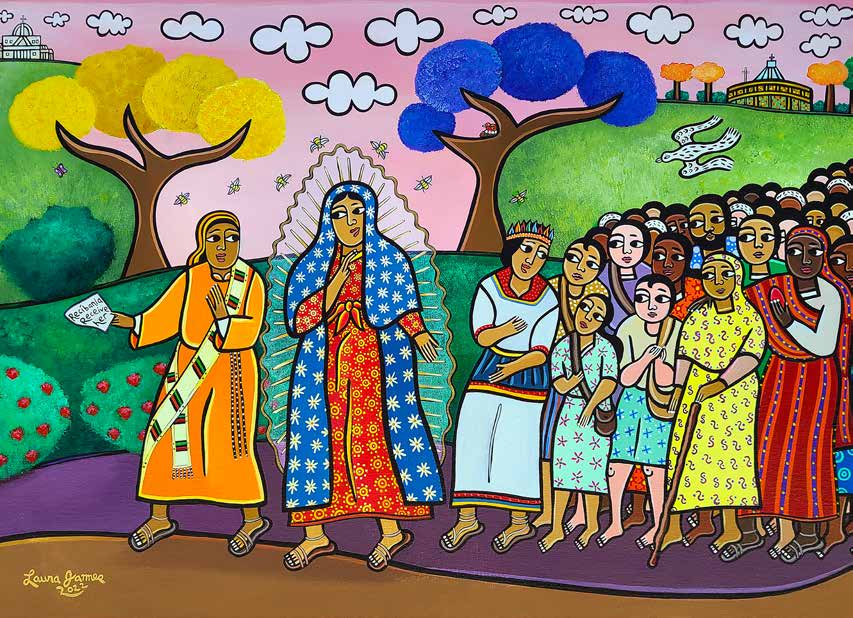 Support the Mission: Become a Patron of Discerning Deacons
During this season of giving, we also invite you to participate by making a financial contribution. Thanks to the support of our benefactors, this year DD was able to live our mission to grow the conversation.
We recognize that everyone does not always have the time to meet or to organize, so if you have been wondering how to express your support of Discerning Deacons, giving financially would be an impactful step. We are humbled by the support we have from people who give $10 a month or $5,000 a year. Each donation reminds us that we do not walk alone, and we are buoyed by your belief in our efforts!
And thank you for all the ways we are building community together and all that you do in your particular family and local community to witness God's unexpected grace.