MINNEAPOLIS – Saint Joan of Arc Catholic Community, a parish of the Archdiocese of St. Paul and Minneapolis, celebrated Deacon St. Phoebe at its Masses on Sunday, September 17, with liturgical fanfare, speakers testifying to the history of women deacons and high hopes for women's officially recognized leadership in today's Church, and the sublime voices of Mama's Table, a local trio of women musicians.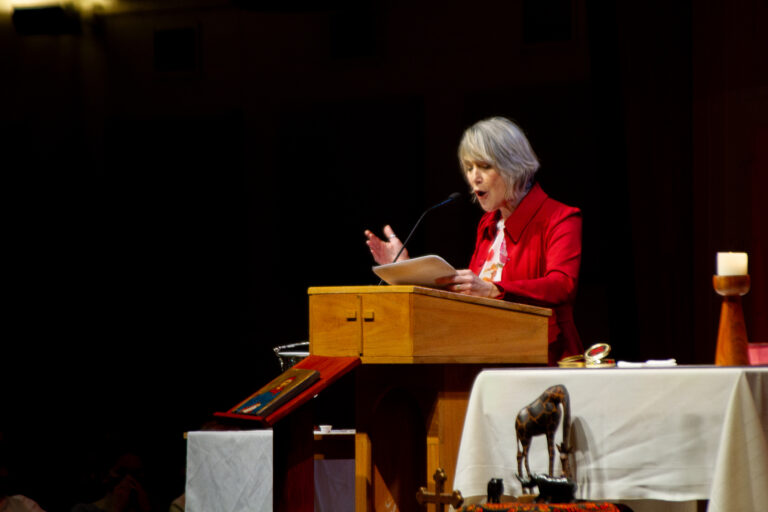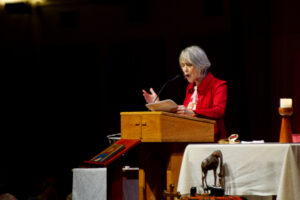 Jane Leyden Cavanaugh (pictured left), an organizer of the parish's St. Phoebe Day liturgy, estimated that during four Masses that weekend, 1,000+ congregation members learned about St. Phoebe's life and leadership, the current movement to restore women to the Catholic diaconate, and the importance of the Universal Synod on Synodality in determining the future of women's leadership in the Church.
Cavanaugh shared, "Our St. Phoebe Day celebration was a Catholic Mass at its best – coming together, unified, at the Eucharistic table, getting nourished through meaningful ritual, prayerful engaging songs, a challenging message on synodality from scripture, and honest testimonies from two women of faith in our community. St. Joan of Arc did today what Jesus did years ago– fed souls and gave hope to people."
To begin the celebration, five parish women processed forward carrying symbols of St Joan of Arc; Esther, queen of Persia; St. Kateri Tekakwitha; St. Josephine Bakhita; and finally, St. Phoebe. As the symbols were placed before the altar, their lives and witness to faith were described.
Cavanaugh and Kris Berggren, members of the parish, shared pre-Mass remarks about the life of St. Phoebe, a deacon in the early church commissioned by the Apostle Paul to carry his letter to the Romans. They offered personal stories of their own experiences as women in the Church and their hopes for a renewal of women to the Catholic diaconate.
"There is no shortage of vocations to lead and serve the Church," said Berggren, who recalled a personal turning point of attending a woman's ordination to the Episcopal diaconate. "But it seems there has been a shortfall of institutional imagination, at least until now."
Parishioners responded with enthusiasm to the special liturgy. One parishioner noted, "It was such a moving moment to recognize the powerful work of women. It is not often that I have felt so involved and inspired during a church service. As a young woman, I look forward to feeling more celebrated and included in the future."
The Phoebe Day Masses featured women in almost all roles — lectors, musicians, and eucharistic ministers, with Fr. Jim DeBruycker presiding.
St. Joan of Arc is the parish home and workplace of Dr. Cynthia Bailey Manns, a delegate to the Universal Synod. Appointed by Pope Francis, she will spend a month in Rome as a voting member of the Synod.
#####
St. Phoebe Day Celebration at St. Joan of Arc Parish in Minneapolis, MN - Pictures by Luke Nohner & Jason Matlock - September, 2023