"For a synodal Church" What is Pope Francis inviting us all to do?
And how can we participate, animate, and serve the listening and discernment process?
A panel of theologians will speak from their experience and expertise.
The panel includes the US members appointed to the Synod Commission on Theology Prof. Kristin Colberg, who is an expert on the Second Vatican Council and ecclesiology. Prof. Rafael Luciani, a member of the Synod Commission on Theology and an advisor to the Church in Latin America through CELAM and CLAR, and Prof Hosffman Ospino who has been integral to the V Encuentro and encouraging synodal, listening, participatory processes in the US Church.
Nov 4, 2021 07:00 – 08:30 PM in Eastern Time (US and Canada)
Interpretation in Spanish will be available.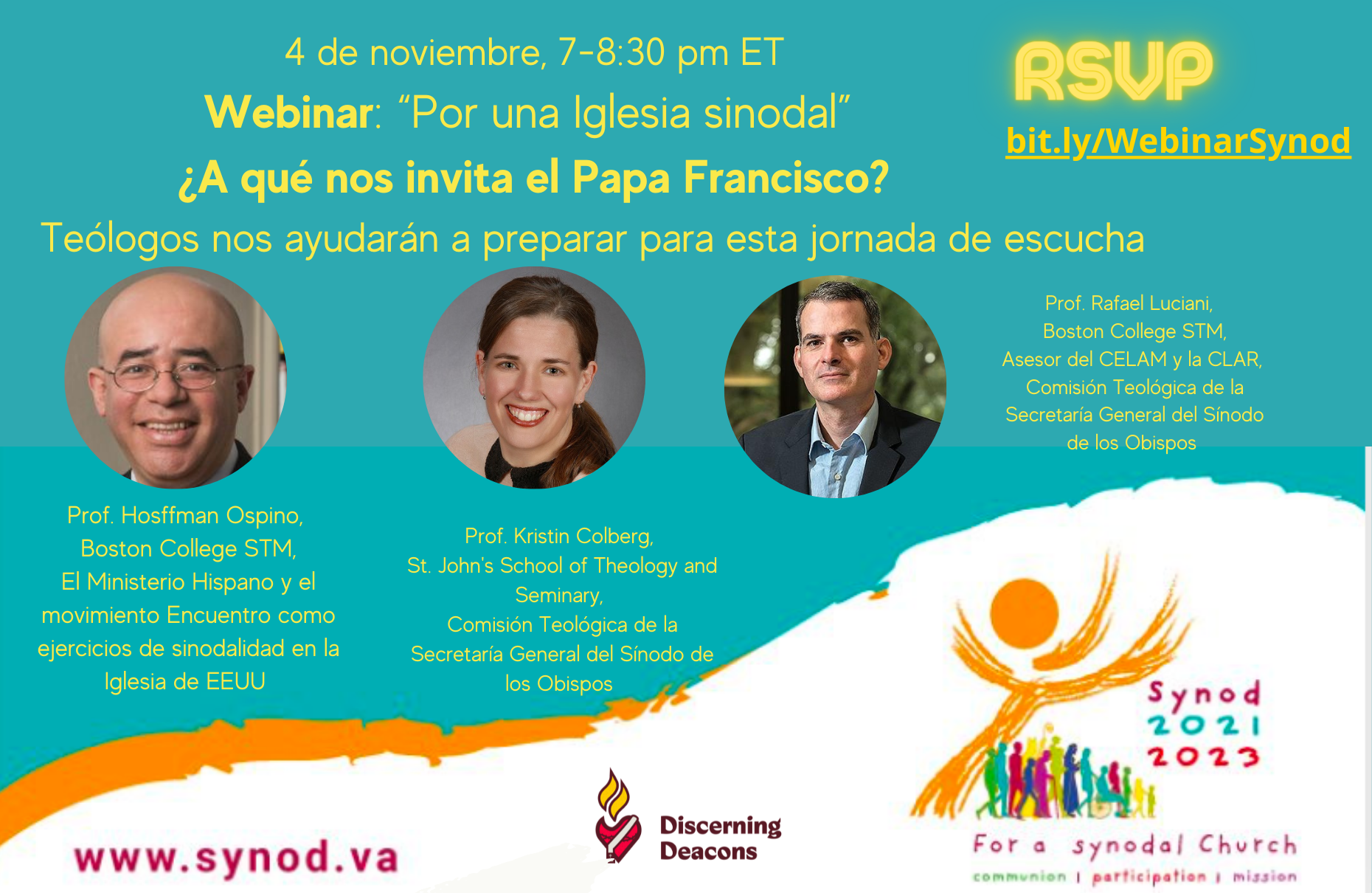 "Por una Iglesia sinodal" – ¿A qué nos invita el Papa Francisco?
¿Y cómo podemos participar, animar y servir al proceso de escucha y discernimiento?
Un panel de teólogos hablará desde sus experiencias y conocimientos.
El panel incluye a dos miembros designados para la Comisión de Teología del Sínodo (el profesor Rafael Luciani y la profesora Kristin Colberg) y el profesor Hosffman Ospino, que ha sido parte integrante del V Encuentro y ha fomentado los procesos sinodales, de escucha y de participación en la Iglesia estadounidense.
Horario
4 de noviembre de 2021 07:00 – 08:30 PM en hora del Este (EE.UU. y Canadá)
Habrá interpretación al español

REGISTER HERE