We gathered last Thursday evening with a dozen marvelous Synod Animators to offer gratitude and celebrate the milestone of turning in our official listening synthesis! With over 350 consultations and nearly 9,000 people engaged – we reflected on what it is to bring forward our loaf, to trust that it is enough, and to believe in a God who desires to multiply what we offer up in communion.
We shared thanksgiving for the gift we've given each other, especially for company along the way, so that when we might have otherwise packed it in, instead we persevered and invited others to join us. Together we practiced the art of listening – to ourselves, to one another and, with humility, for the voice of the Holy Spirit speaking through our shared longings, joys and hopes.
We look forward to sharing the synthesis publicly and hope to have it ready for you next week! We're spending a bit of time to lay it out so it's easy on the eyes and to include the images and artwork that emerged within the process!
I hope these summer months can be a time to step back, see where we've been and ask for wisdom about where we are to go next. There are exciting updates we'll share soon as we grow our team and cast further dreams and visions for what we might offer in the service of a synodal Church. For now we invite everyone in the growing Discerning Deacons community to join us to celebrate our patron's feast day September 3rd as we hold an evening virtual prayer service connecting those around the world with over 50 pilgrims in Mexico City.
Speaking of pilgrimages….
I have been praying lately about what it means to take Pope Francis' invitation to journey together literally, and together with my husband and two children – who turn 10 and 8 this very week — we are setting off from our home in Durham for a global synodal pilgrimage. Our first destination is San Cristobal de las Casas in Chiapas Mexico, where we'll spend the next six weeks studying Spanish, and learning from local community members serving the Church by building the solidarity economy, forming worker cooperatives, and organizing for ecological sustainability and women's equality…
Why Chiapas?

In 2018 Luke Hansen shared images of a diaconal ordination in Chiapas, courtesy of Fr. Stephen Pitts, SJ who posted them back in July 2017. 
He shared the following explanation as well:
"The women are up there with the men when they preside at communion services, which is the experience of the vast majority of the mission for most Sunday's. They usually speak once or twice during the service: some preaching or extemporaneous prayers. They also distribute communion with their husbands. When I have presided at mass, at various points I try to give everyone a chance to address the community: the deacon, his wife, and the village elder if he is present."
Since then, I've felt a recurring pull to go and to learn more. I'm curious about how deacon couples speak about their ministry and how they live this vocation in collaboration. I'm curious how it has grown as a way to meet the needs of the people, in a way that honors indigenous wisdom, rituals, and traditions – while also being a living sign of Jesus' diakonia.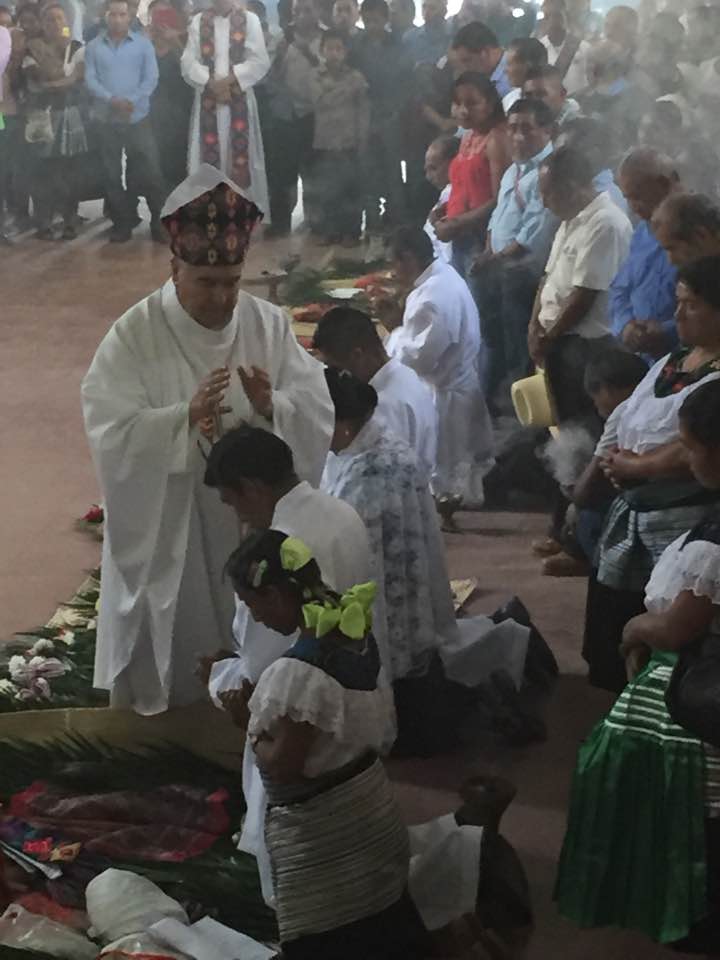 I look forward to sharing snippets from this journey in the year ahead… and in the meantime I'd ask that you please keep this pilgrim and our family in your prayers. 
St. Phoebe, pray for us.
Casey